Time to require tornado shelters in Oklahoma? Moore's mayor says yes.
In Moore, Okla., hit this week by a monster tornado for the second time in 14 years, the mayor says it's time to require new housing to have tornado shelters – even though chances are almost nil that Moore will see a third such storm.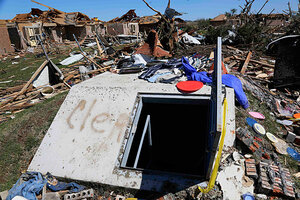 Rick Wilking/Reuters
As some 33,000 tornado-battered residents of Moore, Okla., were allowed back into their flattened neighborhoods Wednesday, the full costs of Monday's massive twister – personal, financial, social – began to emerge, with implications for change in individual lives as well as public policy.
"We always rebuild, but we may have do it differently," storm survivor Stephen Hall said Wednesday.
It was unheard of for a single city to be struck by two massive EF5 tornadoes, and Moore has the unhappy badge of being the first, notes tornado historian Thomas Grazulis. The Oklahoma City suburb was hit first in May 1999 and again on Monday, when a mile-wide twister dragged along for nearly 20 miles, destroying or damaging some 13,000 homes and killing 24 people, including 10 children. An EF5 tornado contains winds in excess of 200 miles per hour and is considered unsurvivable unless people shelter below ground level. A 303 m.p.h. gust recorded in the 1999 Moore tornado remains the highest wind speed recorded on the planet.
The question here is not whether to rebuild, but how, and it began on Wednesday to dominate discussion among residents and elected officials as they surveyed the enormity of the damage.
True to form in "tornado alley," another line of severe thunderstorms rolled across the city Thursday, hampering cleanup. Hail 1-1/2 inches wide was reported in Cleveland County, near where Monday's tornado touched down, and flash flood warnings were in effect throughout central Oklahoma, where as much as 2 inches of rain were expected.
On Wednesday, Glenn Lewis, mayor of this city of 56,000, said he would seek to mandate that new home construction in Moore have underground storm shelters, which adds about $4,000 to construction costs per household. After the 1999 tornado, the city helped residents get federal aid if they wanted to build shelters, but an ordinance mandating shelters would significantly boost the city's level of precaution. Mr. Lewis was also mayor during the 1999 tornado.
---