After superstorm Sandy, Jersey Shore priming for Memorial Day weekend
The Jersey Shore has been rebuilding since Sandy, and on Memorial Day weekend, merchants hope that tourists come for a dash in the surf and a walk along the boardwalk to spend some money.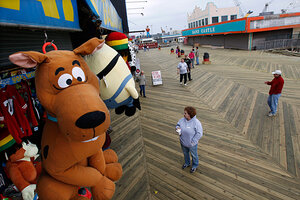 Mel Evans/AP
Carpenters are installing a railing along a rebuilt boardwalk, intent on getting it ready for the Memorial Day weekend. The smell of fried food hangs in the air as vendors fire up their fryers for funnel cakes and French fries. Almost everywhere, painters are trying to cover rusty spots outside concession stands selling T-shirts and offering games of chance.
This will be the first Memorial Day weekend since superstorm Sandy ripped up boardwalks, flooded a wide area from Long Island to New Jersey, and uprooted many lives. Now, with the unofficial kickoff to summer, Jersey Shore merchants are hoping that tourists come for a day in the sun, a dash in the surf, and a walk along the boardwalk to spend some money.
It's key they do: Summer is when the lion's share of tourism happens here, and tourism is central to the region's economy.
"Hopefully, people will come down and support us," says Vinny Scuzzese, who has been running Vinny's Games in Seaside Heights for the past 21 years. "We're open."
But tourists will find uneven progress in the recovery efforts after Sandy. While many repairs have been made, and places like Vinny's Games are open, visitors will have to overlook the fact that many amusement rides won't be ready. Restrooms will be in short supply, and lot of fishing piers are still closed. Also, in some areas along the shore, lodging won't be as plentiful as in past years because Sandy swept some rental homes into the sea.
According to the state of New Jersey, about $19 billion comes from tourism in the area that stretches from Monmouth County (the closest shore county to New York) to Cape May (the southern tip of the state). But merchants say the combination of a cold, wet spring and the public's uncertainty over what might be open has already cost them.
"We really need a good summer because our spring business was so far down," says Mark Tenore, who runs some parking garages in Seaside Heights.
---