Memorial Day weekend: (almost) no sticker shock on gas prices
Some 31 million Americans set to hit the roads over Memorial Day weekend won't have to worry about a run-up in gas prices. Energy analysts say that – except for the upper Midwest – the gas spike is over.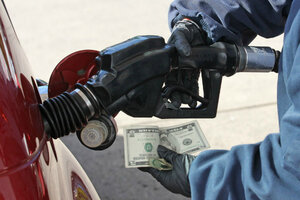 Rick Bowmer/AP/File
Americans hitting the highways this Memorial Day weekend will have no trouble finding reasonably priced gasoline – as long as they don't live in the upper Midwest, where prices have soared by as much as 68 cents a gallon in the past two weeks.
Aside from gasoline pumps in such places as Minnesota and North Dakota, gas prices are about the same as at this time last year, averaging $3.66 a gallon nationwide, according to AAA, the national motorists club. In some states, such as South Carolina and Tennessee, the price is in the $3.20 range.
Relatively flat gasoline prices at the start of what is considered the summer driving season will help the wallets of 31.2 million Americans whom AAA expects to use cars to travel to their weekend destinations. But gasoline prices go beyond the Memorial Day weekend: They have a subtle psychological effect on American consumers, because gasoline is a commodity for which buyers often track prices. If gasoline prices are soaring, consumers may hold back on other purchases; if prices are falling, they may be more positive.
"If gasoline were to hit $4 a gallon, it would be a terrible thing," says Dennis Jacobe, the Washington-based chief economist at the Gallup Organization. "For a weak economy, it would be very bad."
Gallup's consumer confidence polling is finding that people are more optimistic. However, Mr. Jacobe says that upbeat attitude has more to do with rising home values, not flat gasoline prices. Many Americans will opt to spend more money on their homes this summer instead of taking expensive vacations, he predicts.
Indeed, a AAA survey released Wednesday found that travel this coming weekend is expected to be down 0.9 percent from last year. But most of the drop in travel is the result of an expected 8 percent decline in air travel.
"American travelers are experiencing fee fatigue and frustration with everything from higher fares to airport security," says Robert Darbelnet, president and CEO of AAA, in a statement. "As a result, many are choosing road travel in higher numbers due to the lower cost and convenience it offers."
---