Storm chasers killed by latest Oklahoma tornado (+video)
Storm chasers killed in Oklahoma tornado Friday were three of the most professional men in a field that has increasingly become about sensational stunts.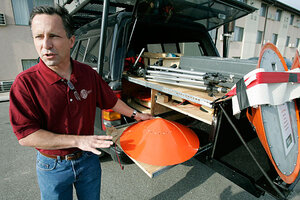 Charlie Neibergall/AP/File
On a day when many storm chasers acknowledged that they take too many risks in order to get the most sensational videos, one of the safest and most professional storm chasers of all died.
Even before the death of Tim Samaras became public Sunday, the El Reno tornado in Oklahoma Friday had spawned serious introspection among the storm-chasing community. The Weather Channel's Mike Bettes, who two years before had called out storm chasers as hypocrites for saying "safety is their No. 1 concern and warning the public is their number No. 1 priority," found himself flung 200 feet in his custom "Tornado Hunt 2013" SUV.
"I thought I was doing the right thing, but obviously I wasn't," he wrote on his Facebook page.
He and his crew emerged with only minor injuries. But the deaths of Mr. Samaras and two other members of his team – son Paul and colleague Carl Young – are a bitter irony. Samaras took risks, to be sure. He said he knew the smell of a tornado – a scent of new-mown grass and broken gas lines – and once got so close that "debris was flying overhead, telephone poles were snapped and flung 300 yards through the air."
But among the extreme-weather community, Samaras was known as someone whose No. 1 concern was safety and whose No. 1 priority was warning the public. In a field where so many storm chasers have become little more than meteorological paparazzi, seeking a glory moment on social media or the 24-hour news channels, Samaras remained a scientist at heart, fascinated by the awesome power of nature's fury and determined to understand the many mysteries that still elude tornado researchers.
The details of Samaras's death have not yet been shared publicly, but the story of the Weather Channel storm chasers underscored one of the field's greatest risks: getting caught with nowhere to drive when a storm bears down on you.
---