Carpe diet? Chinese firm's plan to export Asian carp could help US waterways.
A Chinese firm says it's seizing on the explosion in the population of invasive Asian carp, which environmentalists say threatens the Great Lakes, and will open a fishery dedicated to its export.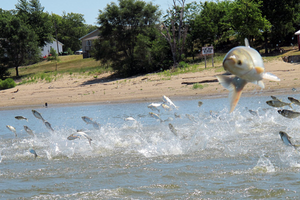 John Flesher/AP
A Chinese company is planning to open the first fishery in the US dedicated solely to the processing of Asian carp – an invasive species that environmentalists say is threatening the Great Lakes – and its export to markets in Southeast Asia.
In its announcement this week, the company, Two Rivers Fisheries, said it aims to pull up 10,000 of the fish daily from local waterways, although environmental science experts say it is too soon to say if the effort will make enough of a significant dent in the ongoing effort to keep the species from penetrating Great Lakes waters.
There are currently an estimated one million Asian carp in the Illinois River, a waterway that links to the Mississippi River where the carp originated and is connected to Lake Michigan through a series of artificial shipping canals near Chicago.
Even though a single Asian carp has been found lakeside of an electric barrier built to prevent a carp invasion, a coalition of neighboring states, including Michigan, Minnesota, and Wisconsin, worry that an imminent fish invasion threatens a $7 billion annual recreational and commercial fishing industry.
Two Rivers Fisheries says it plans to invest $2.5 million in building the fishery in Wickliffe, Ky., a city located about two miles south of the confluence of the Ohio and Mississippi Rivers. The company will purchase the fish from local fishermen, and process it for shipping overseas, where the fish is sold for human consumption and animal feed and where byproducts are used for products such as fertilizer.
---