'Walking Dead' actress arrested: How ricin letters became tool of revenge
Several poisonous letters sent to officials appear to have been tied to settling private feuds. On Friday, the FBI arrested a woman for sending ricin-tainted letters to President Obama and New York Mayor Michael Bloomberg, apparently to exact revenge upon her estranged husband.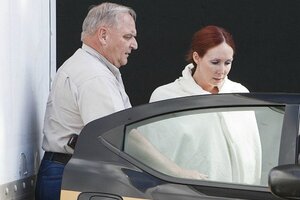 Curt Youngblood/The Texarkana Gazette/AP
Two days after an Elvis impersonator's online rival pleaded not guilty to sending letters tainted with the ricin toxin to several US officials, the Federal Bureau of Investigation arrested a Texas actress for allegedly sending ricin-tainted letters to President Obama and New York City Mayor Michael Bloomberg in an apparently twisted bid to implicate her estranged husband.
The emergence of ricin, a deadly toxin that can be derived from a common ornamental plant, as a revenge tool is a new twist in the post-9/11 era, in which non-terrorists have ratcheted up their local feuds to national security events by involving high officials like Mr. Obama. A spate of poison-tainted mail escalated terror fears in the wake of 9/11, but these new attacks seem both more bizarre and more mundane, like made-for-tabloid vendettas.
In both cases, police say the people who tipped off authorities ended up being the alleged perpetrators. Earlier this spring, the FBI detained a Mississippi Elvis impersonator, Kevin Curtis, on suspicion he sent ricin-tainted letters to Obama and several other officials.
But this week, a rival, James Everett Dutschke of Tupelo, Miss., was arraigned and pleaded not guilty to charges alleging he sent the letters in order to pin the blame on Mr. Curtis.
---