Why firefighter deaths have hit historic lows
Fewer than 65 on-duty firefighters died in 2012, almost one-third fewer than three decades ago, when record keeping began.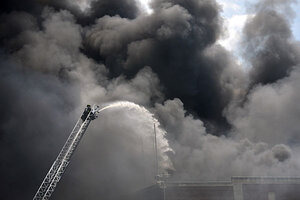 Matt Detrich/The Indianapolis Star/AP
When Ken Willette started firefighting 35 years ago, his uniform left much to be desired. Little more than a raincoat with rubber boots and plastic gloves, the outfit was more likely to melt than sustain his job responsibilities.
Now, with improvements to firefighting equipment, as well as better safety standards, and a decrease in overall fires, the number of firefighter deaths has dropped by more than a third in the past three decades and has fallen to historic lows the past two years.
A total of 64 on-duty firefighters died in the US in 2012, marking the second consecutive year that the total has been below 65 deaths, the lowest level since statistics began to be tracked in 1977. The number of fatalities that occurred during actual firefighting also dropped to a record low.
It's a significant improvement from the late 1970s, when the average number of on-duty firefighter deaths reached 151. The numbers have been trending downward since then, according to a new report by the National Fire Protection Association (NFPA). By the 1990s, the average number of on-duty deaths fell to 97 and the first decade of the 21st century saw the figure drop to 88. In the past five years the number fell further to 77 average annual fatalities.
The US Fire Administration records slightly higher statistics due to a broader definition that includes some deaths more than 24 hours after duty. Firefighters killed fighting wildfires are included in the NFPA report, but account for a small number of annual deaths.
---