Obamacare behind schedule as Oct. 1 rollout nears
Two government reports cite delays in setting up health-insurance exchanges as the Oct. 1 deadline looms.The public is still more negative than positive about reform, but promotion is just starting.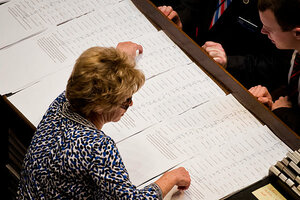 Glen Stubbe/The Star Tribune/AP/File
The central feature of Obamacare – getting the uninsured to sign up for health insurance – is due to start on Oct. 1, less than four months away. But both the federal and state governments are behind in their preparations.
That's the conclusion of two reports issued Wednesday by the congressional Government Accountability Office (GAO) looking at the status of government efforts to set up online "exchanges," or marketplaces, for both individuals and small businesses.
"Much progress has been made, but much remains to be accomplished within a relatively short amount of time," said the GAO report on the establishment of "federally facilitated" health-insurance exchanges for individuals. Those are the exchanges being set up for the 34 states that opted not to set them up themselves.
For example, the report cites a two-month delay in funding awards for "a key consumer assistance program" known as Navigators, causing delays in training. The report also says that the federally created exchanges rely on the states to implement certain functions, and some are behind schedule.
Passing the Patient Protection and Affordable Care Act (ACA), or Obamacare, remains the signature accomplishment of the Obama presidency, and the law's success is crucial to President Obama's legacy. One year ago, most of the law survived the scrutiny of the US Supreme Court, but fierce resistance from Republican governors and members of Congress has put a drag on implementation.
The Department of Health and Human Services (HHS), which is overseeing implementation, says the new marketplaces will open on time. People who sign up will be covered as of Jan. 1, 2014.
Polls show that a high percentage of Americans – upwards of 50 percent – are not aware that the ACA is the law of the land, that it contains a mandate to buy insurance, and that subsidies will be available.
---