Immigration reform's 'surge': The politics works, but will the policy?
The border security amendment that cleared the Senate Monday is the key to bringing in a big, bipartisan majority for the immigration reform bill. Critics say there are more effective ways to spend resources.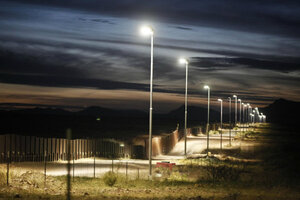 Samantha Sais/Reuters/File
Immigration reform continued forward on Wednesday, when the Senate approved an amendment promising a "border surge" by a 69-27 vote.
But that same amendment, a compromise struck between Republican senators and the "Gang of 8" authors of the immigration bill, is being criticized as being more about big, splashy numbers than finding best policy to staunch illegal immigration.
Attracting the most skeptical head-cocking in and around Capitol Hill is $30 billion in new funds to double the number of border patrol agents on the southern border – a splurge that more than tripled the bill's cost.
That's before an additional chunk of funds to expand southern border fencing to 700 miles from the 350 required miles in the original bill, helping to bring the bill's total cost to $48 billion, up from some $8 billion in its original form
"If you really wanted to spend money, this is not where I'd want to spend money," says Seth Stodder, who served as as director of policy and planning for US Customs and Border Protection (CBP) from 2001 to 2004, of the border-security amendment struck by Republican Sens. Bob Corker of Tennessee and John Hoeven of North Dakota with the "Gang of Eight" authors of the immigration bill.
"I'm torn. I understand the politics of it. I understand we need to do something that people in the Senate and in the House are sufficiently comfortable with the idea of immigration reform," says Mr. Stodder, now a partner at the law group Obaghi and Stodder and who supports the broader immigration reform bill. "If that's the price we have to pay to fix the immigration laws, I might be willing to pay it. Is it good policy? Probably not."
Nothing's wrong with a bumper crop of border agents, skeptics of the measure say. But funding enough agents to park them about a football field apart every hour of every day from San Diego to Brownsville, Texas, could be money better spent on less boldface priorities with potentially greater return for American border security, critics say.
---