Lonesome George, famous Galápagos tortoise, to be preserved: why he's a symbol
Lonesome George, who died last year, will be displayed at the American Museum of Natural History in New York this winter. Experts hope the exhibit will spread awareness about species extinction.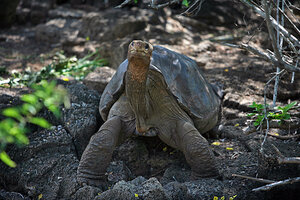 Melanie Stetson Freeman/The Christian Science Monitor
The body of Lonesome George, a century-old giant tortoise believed to be the last of its species, is being prepared for temporary display at a New York City museum this winter.
The tortoise, named after the late television comedian George Gobel, was discovered in 1971 on Pinta Island in the Galápagos Islands. The tortoise somehow survived the eradication of its kin by whalers seeking food and by goats, which destroyed its habitat following their introduction to the area in 1959. He survived by dining on his staple food, island cactus.
George died in June 2012, and a cause of death has not been recorded. He was considered middle-aged, as tortoises are known to live for up to 200 years.
The American Museum of Natural History announced this week that it recently received George's body and that throughout the summer and fall, it will be retrofitted for display.
"We are honored to receive this incredibly important specimen and ultimately, put it on display for the public," Michael Novacek, senior vice president and provost of science at the museum, said in a statement. "Our team of experts, using preservation and taxidermy techniques that have earned this institution recognition throughout the world, will ensure the legacy of Lonesome George lives on and is appreciated by future generations."
The effort to transport George to New York was not easy. Funding of about $30,000 came from a partnership between the museum; the Galapagos National Park in Ecuador; the Galapagos Conservancy in Fairfax, Va.; Yale University in New Haven, Conn.; and the State University of New York College of Environmental Science and Forestry (SUNY-ESF) in Syracuse.
---