Amid driest conditions on record, New Mexico sweats every spark
In its third straight year of drought, New Mexico is seeing the warmest, driest conditions on record. Seven wildfires are now burning, and dry storms are yielding lightning strikes but little rain. Relief is unlikely, forecasters say.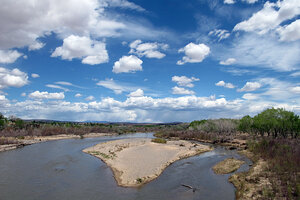 Susan Montoya Bryan/AP/File
New Mexico is a tinderbox ready to spark. In its third consecutive year of drought, the state is currently experiencing the warmest, driest conditions on record.
According to New Mexico state climatologist David DuBois, the trees, plants, and wildlife in more than 93 percent of the state are struggling to survive in extreme or exceptional drought conditions.
The combination of drought and triple-digit temperatures is creating fuels so dry that the smallest spark creates a flame, and minutes later another deadly inferno is raging in the Southwest.
On June 30, 19 members of the Granite Mountain Hotshots, a wildfire firefighting unit based in Prescott, Ariz., died working the front lines of a fire outside Yarnell, Ariz. The wind shifted suddenly, leaving them with little or no time to seek shelter. A few weeks earlier, the Granite Mountain Hotshots were in New Mexico fighting the Thompson Ridge Fire in the Jemez Mountains, alongside members of the Santa Fe Fire Department's Atalaya Hand Crew.
As firefighters mourn the loss of their friends, they continue to fight seven wildfires actively burning in New Mexico, while watching the skies for rain. They hear thunder and their hearts pound with hope for relief from the Southwest monsoons. Instead, the storms bring cloud-to-ground lightning but little moisture, increasing the possibility of even more wildfires.
---