Year after drought, wettest Midwest spring in 40 years delays crop planting
Last year, Midwest farmers struggled with drought; this year, it's heavy rain and sodden farmlands, which have pushed back the planting season. By contrast, farmers in the South worry about too little rain.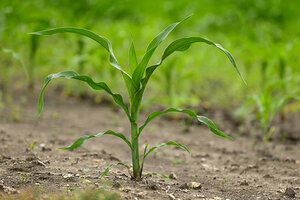 Charlie Neibergall/AP
After scorching temperatures and drought conditions devastated the nation's crop production last year, farmers across the Midwestern farm belt are now dealing with the reverse side of Mother Nature – too much rain.
Meteorologists say the region experienced the wettest spring in 40 years, with rainfall in portions of the Midwest 8 inches above normal. From January to June, Illinois – the second largest corn and soy producer – had its wettest six months in history, with 28.7 inches, which is 8.9 inches above average
Soggy farmland has pushed back the planting season, and some farmers have given up planting entirely. Farmers worry that wet soil will prevent corn and soybeans from developing the deep roots, about two to four inches, needed to fully grow. Oversaturated soil prevents roots from getting oxygen, and ideal moisture is located directly below the seed, not in the topsoil.
Much of the nation's corn crop is sowed by July, however according to the US Department of Agriculture in its June acreage report, released last week, 91 percent of corn has yet to germinate, compared with 100 percent during the extreme drought the same time a year ago. Planted corn acres are estimated at 97.3 million, resulting in a projected harvest of 89.1 million acres, which is only slightly behind March estimates.
---