Officials look for causes of Asiana Flight 214 crash in San Francisco
Early reports indicate Asiana Flight 214 from Seoul, South Korea, was not in an emergency situation when it crash-landed at San Francisco Airport. Casualty figures are unavailable so far, but many passengers were able to escape.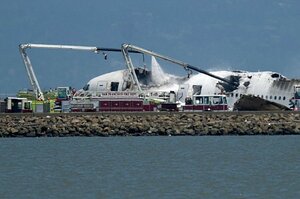 Noah Berger/AP
Asiana Airlines Flight 214 from Seoul, South Korea, crashed while landing at San Francisco International Airport on Saturday.
Eyewitnesses reported the Boeing 777 aircraft approaching the runway at an unusual nose-high, low-tail attitude. The debris field indicated touchdown occurred much earlier on the runway than is typical.
Aviation experts speculate that the tail hit first, disabling flight controls and sending the 777 sliding and spinning up the runway as parts of the aircraft (the tail and parts of the wingtips) flew off.
Officials told MSNBC there is no indication that terrorism was a factor. Weather does not seem to have been a factor either. Winds were clocked at 5-10 miles per hour, temperatures were in the mid-60s and skies were partly cloudy.
The pilots made no distress calls, and no emergency vehicles approached the runway until after the crash landing occurred.
No passenger list or reports of casualties were available at this writing, but photos taken by passengers showed groups of them exiting the hulk of the aircraft via a slide on the left side and walking away. News reports put the number of passengers onboard at about 300.
---