Thomas George Paculis extortion try: Vultures circling over Paula Deen's crisis?
Former Food Network star Paula Deen is fighting for her culinary empire after admitting to using the N-word. The FBI caught one alleged blackmailer on Friday who demanded $250,000.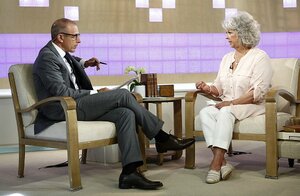 Peter Kramer/NBC/AP
The FBI on Friday arrested an alleged blackmailer in New York, drawing a line on what's become a national pile-on of former Food Network superstar Paula Deen after she admitted in an April deposition that she had used the word "nigger" in the past.
According to an FBI affidavit, Thomas George Paculis, a former restaurant owner in Ms. Deen's hometown of Savannah, Ga., schemed to extort $250,000 from the silver-haired Southern icon in exchange for keeping mum about other potentially damaging allegations against her. Mr. Paculis, the FBI alleges, approached Ms. Deen's lawyers five days after Deen's use of the "N-word" became public.
He wrote that "the statements are true and damning enough …, [but] as always … there is a price for such confirmation."
For now, the extortion attempt may be the least of Deen's concerns.
Nine sponsors have bailed on Deen, who has tearfully apologized, while also criticizing people telling "hurtful lies" about her character.
"I am so distressed that people I've never heard of are all of a sudden experts on who I am," she told NBC's Matt Lauer on June 26. "I is what I is, and I'm not changing," she added, before asking viewers without sin to "please pick up that stone and throw it so hard at my head that it kills me."
A national publisher also pulled the release of her new cookbook after the Food Network dropped her contract.
Maintaining she had only used the controversial word in the distant past, Deen also defended in the deposition a suggestion she made while planning a wedding in 2007, where she imagined a plantation-style affair complete with an all-black wait staff, acknowledging at the time that such a soiree would probably get her in trouble with the press.
---