Asiana Airlines Flight 214 'black boxes' detail San Francisco crash landing
The crew of the Asiana Airlines aircraft that crashed Saturday at San Francisco airport tried to increase its speed and abort its landing just seconds before it hit the seawall in front of the runway, according to flight recorders recovered by the National Transportation Safety Board.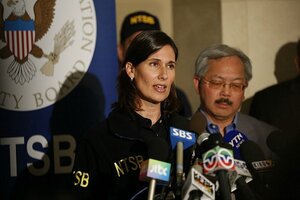 Stephen Lam/REUTERS
A clearer picture is emerging of what happened in the seconds leading up to the crash of Asiana Airlines Flight 214 at the San Francisco Airport Saturday.
On Sunday afternoon, National Transportation Safety Board (NTSB) Chairman Deborah Hersman presented details of those final seconds based on information from the two "black boxes" – the flight data recorder and the cockpit voice recorder – which had been flown back to Washington overnight, guarded by air marshals and then examined by NTSB experts.
Here are the most relevant details as presented and described by Ms. Hersman:
Flight 214 was approaching Runway 28 Left with its landing gear down and wing flaps set at 30 degrees. The approach speed – the "target speed" or speed to which the aircraft was to slow – was 137 knots. There was no cockpit discussion of any concerns or anomalies.
At 7 seconds before impact, someone in the cockpit called for an increase in speed.
At 4 seconds before impact, the sound of the "stick shaker" can be heard. This is a device which gives both an aural and physical alert to the pilot that the aircraft is approaching stall speed – too slow to maintain lift and keep flying normally. In commercial aircraft, the "stick" is actually a yoke used by the pilot to adjust wing roll and nose pitch.
"The speed was significantly below 137 knots, and I'm not talking about a few knots," Hersman said at a briefing Sunday afternoon, noting also that the throttles had been pulled back to idle as the aircraft slowed below the target speed.
At 1.5 seconds before impact, someone in the cockpit called for a "go around" – which means adding power, waving off the approach to landing, and climbing back up to an altitude necessary to fly around for another attempt to land.
---