Asiana Airlines San Francisco crash: piecing together the evidence
Investigators have found the 'black boxes' from the Asiana Airlines crash landing in San Francisco. Weather was clear and there had been no reports of mechanical difficulties, which points to pilot performance.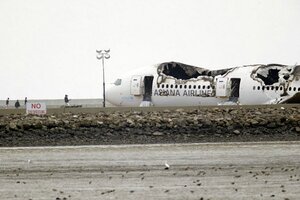 Marcio Jose Sanchez/AP
Investigators looking for clues to the Asiana Airlines crash landing at the San Francisco Airport found their first major piece of evidence Sunday: the "black boxes" containing the flight data recorder and the cockpit voice recorder.
The boxes – actually, they're orange – are designed to tell experts exactly what was happening with the Boeing 777 airliner, including mechanical and electrical data, as well as what crew members said to each other as the aircraft approached Runway 28 Left.
What is obvious from photos and videos is that Flight 214 struck the sea wall at the end of the runway well short of the normal landing spot, which knocked off the tail section, one engine, and parts of the wings as the aircraft slammed down hard and slid to a stop to the left of and several hundred yards up the runway.
Eyewitnesses report seeing the aircraft in an unusually nose-high, tail-low attitude as it flew in low over the water, suggesting that the pilot flying the 777 – one of four flight crew members assigned to the 10-hour-plus flight from Seoul, South Korea – was trying to regain altitude.
The situation seemed to have surprised the flight crew. As they talked to flight controllers on the ground during the approach to San Francisco, they gave no indication of any difficulties nor did they alert passengers and cabin crew to the impending crash. Weather was not a factor. The approach and landing were being made visually and "hands-on," which is not unusual.
---