Does Canada train blast show danger of oil transport in US?
The derailment of a train loaded with crude oil in Quebec resulted in devastating explosions and fire. The accident raises questions about the safety of shipping oil through Maine to New Brunswick's coastal refineries.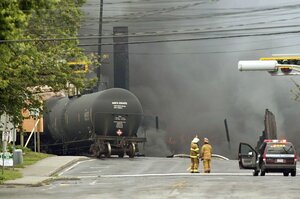 Paul Chiasson/The Canadian Press/AP
What caused a parked train to break loose and roll with destructive force into the border town of Lac-Megantic, Quebec, on July 6? The answer to that question remains a mystery today as firefighters douse remaining flames and sift through the wreckage of the town center, an area so charred a local fire chief likened it to a "war zone."
The 73-car train belonged to the Montreal, Maine & Atlantic Railway, which owns track from Quebec to the coast of Maine and the Canadian province of New Brunswick, and was loaded with crude oil. It had been parked west of town, uphill, and its engineer had detrained to spend the night in a town hotel.
Edward Burkhardt, the chief executive officer of the parent firm of the MM&A Railway told The Associated Press that his information indicates the train was parked in an appropriate manner.
"If brakes aren't properly applied on a train, it's going to run away," said Mr. Burkhardt. "But we think the brakes were properly applied on this train."
The engineer has said he set the brakes on all five of the train's engines, as well as on a sufficient number of cars, said Burkhardt.
The train rolled into the center of Lac-Megantic at about 1 a.m. The area was still busy with people in bars and restaurants in a town that bustles with visitors in summer. It derailed and an undetermined number of tanker cars were damaged. They fired a series of explosions that leveled buildings and loosed a stream of burning oil into sewers.
As of Sunday morning local authorities said they had one confirmed fatality, but that the number was likely to rise. There were few reports of injuries, suggesting that people either escaped or were killed by the sudden blasts and fire.
Across the border in Maine, the tragedy is likely to turn up the volume on an existing debate about the safety of shipping crude oil through the state from Canada's western petroleum region to New Brunswick's coastal refineries.
---