Yarnell fire: How to save lives as wildfires intensify in Arizona and beyond?
Wildfires are becoming more intense and more destructive, experts say, and devastating blazes like the Yarnell Hill fire in Arizona, which took the lives of 19 firefighters, are increasingly common.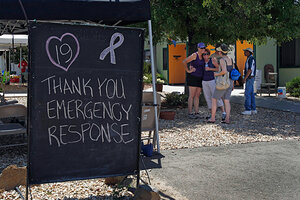 David Kadlubowski/The Arizona Republic/AP
The Yarnell Hill fire in Arizona may have been the most devastating loss of life for wildfire firefighters in 80 years, but the conditions that led to it – hot and dry, sustained drought, a prolonged buildup of fuels due to fire-suppression policies – are making such devastating fires increasingly common.
Climate change and decades of fire suppression are the major factors contributing to a rapid increase in the size and severity of fires in the West, say experts, and the growing number of homes in fire-prone areas – often known as the wildland-urban interface – has made fighting and preventing such fires even more complicated and costly.
As friends, family members, and fellow community members celebrate the lives of the 19 members of the Granite Mountain Hotshots who died at Yarnell Hill in a memorial service Tuesday, many people are wondering how to prevent such tragedies in the future – especially given the current trends.
"There has literally been an order-of-magnitude increase in the size of fires throughout the West, and in particular the occurrence of so-called mega-fires – those that burn a half a million acres or more, and used to be extremely rare, but are now becoming more common," says Don Falk, a professor at the University of Arizona's School of Natural Resources and an expert in fire history.
The fires, which are increasing in intensity and severity as well, are becoming more destructive. Along with the devastating loss of life at Yarnell Hill, this year has also seen the most destructive wildfire in Colorado history in terms of number of homes lost. More than 500 structures were destroyed in the Black Forest fire near Colorado Springs in June. The previous record in Colorado had been held by last year's Waldo Canyon fire, which destroyed almost 350 homes.
---