Bradley Manning trial defense: He did not harm US national security
Army Pfc. Bradley Manning's court martial details the vast amounts of classified information he provided to WikiLeaks. The defense argues that Manning's actions in Iraq did not aid the enemy.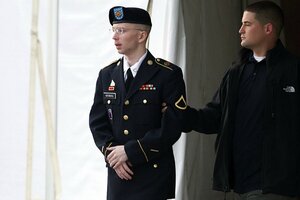 Jose Luis Magana/AP
The essence of Pfc. Bradley Manning's defense in his military court martial is that, yes, he released a trove of classified data to the controversial whistle-blower organization WikiLeaks, but that information did not seriously harm US national security – and it certainly did not aid the enemy in the war on terrorism.
Pfc. Manning's defense team also hopes to paint the young soldier as an idealist who became disillusioned by some of what he learned in Iraq, and that he was merely trying to save lives by revealing secrets about US operations there.
The case is being argued before presiding judge Col. Denise Lind. Colonel Lind, who has ruled out any defense testimony regarding Manning's motives in leaking information. But over prosecution objections, she is allowing defense witnesses who had been communicating with Manning to testify as to his state of mind while he was in Iraq.
In an online chat with a friend back in the United States, Manning had said he was "concerned about making sure that everyone, soldiers, marines, contractors, even the local nationals, get home to their families," according to the testimony of Lauren McNamara.
Referring to the detainees at Guantánamo Bay, Cuba, Manning wrote that "some of them are actually pretty dangerous indeed ... some of them weren't dangerous before, but are now in fact dangerous because we imprisoned them for so long…."
Morris Davis, the retired Air Force colonel who served as the former chief prosecutor at Guantánamo, testified that much of the information in the "detainee assessment briefs" revealed by Manning was easily available from open sources, including government sources.
Army Sgt. David Sadtler testified that Manning was upset when he learned that civilians were being arrested for protesting in Iraq.
Another witness, Army Chief Warrant Officer Joshua Ehresman, an intelligence analyst who supervised Manning in Iraq, said Manning "was our best analyst by far."
---