Stifling heat wave settles over northeast quarter of US. Not cool.
From the mid-Atlantic to the Northeast and back through Michigan, extreme heat is firing up this week over a broad area, prompting cities to prepare cooling centers.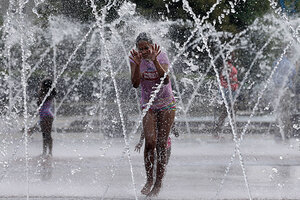 Steven Senne/AP
A heat wave is expected to bake the northeast quadrant of the nation this week, extending from the seaboard as far west as Michigan. Temperatures in the 90s are already posted in New York City and as far west as Detroit, and they are expected to remain there throughout the week.
Monday's forecast high in New York City is 97 degrees, the highest on record since July 18 last year. Tuesday's forecast high is 98 degrees. Nightly lows for the city are forecast to drop only into the low 80s.
The National Weather Service (NWS) says extreme heat is expected in the coming days mainly from the Mid-Atlantic to New England and that average temperatures will remain in the mid- to upper-90s. The agency issued a heat advisory through midnight Tuesday for the western suburbs of Boston and southern New Hampshire in the north, down through Rhode Island and most of Connecticut except the shoreline areas, New York City, central New Jersey, and southern Pennsylvania.
The culprit, say meteorologists, is a jet stream in Canada that is causing what they call a "blocking pattern" in the atmosphere, causing extreme high or low pressure systems that can last weeks. Angela Fritz, an atmospheric scientist with the Weather Underground, a commercial weather service based in San Francisco, says that the current heat wave is expected to last through Saturday.
---