Obamacare to slash premiums in New York. Was Obama right all along?
New York released the premiums that its health-insurance exchange will offer under Obamacare, and savings could be more than 50 percent. But New York might be an unusual case.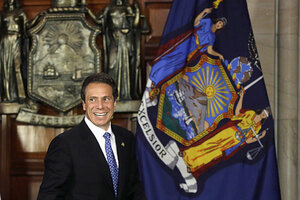 Mikle Groll/AP/File
One of the centerpieces of Obamacare bloomed Wednesday when New York Gov. Andrew Cuomo (D) announced the new state-run insurance exchange would cut costs by more than half.
State regulators have just approved the premiums the exchange will offer, and, on average, they represent a 53 percent reduction of previous individual rates. Any uninsured person or a small business with fewer than 50 employees will be able to purchase this insurance through New York's Health Benefit Exchange, an online marketplace of 17 companies offering four grades of insurance – as mandated by President Obama's 2010 Affordable Care Act.
Governor Cuomo noted that these new rates do not take into account the additional federal subsidies that will be offered to lower income residents, making the savings for some even greater.
The announcement is a victory for Obamacare, which Americans still view warily, according to polls. A Gallup poll last month found that 42 percent of respondents said Obamacare would make their lives tougher, compared with 22 percent who said it would improve their lives. The New York report provides evidence that Obamacare can drive costs down.
"For the individual market, which has always been really complex and really expensive, the Affordable Care Act is bringing down rates in states around the country – it's introducing competition and bringing down costs for individuals," says Eileen Elliott, a health care attorney with Dunkiel Saunders in Burlington, Vt.
---