Firefighting's new reality: not every house should be saved
Americans don't expect to stop hurricanes or floods – they cope with them. The same is increasingly true of firefighting, which is coping with decades of poor fire policy and an increasing number of homes in fire-prone areas. But the new strategy demands hard choices.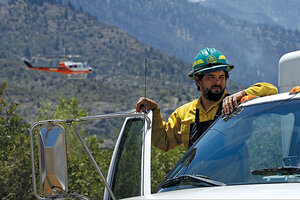 John Locher/Las Vegas Review-Journal/AP
The devastating Yarnell Hill fire in Arizona, coupled with what is already Colorado's most destructive fire season, has put the nation's fire policy in sharp relief.
While Arizona families are asking hard questions about what led to the deaths of 19 elite firefighters in one afternoon, those at the forefront of firefighting nationwide are struggling to create a comprehensive approach to fire that encompasses a multiplicity of concerns: political, economic, environmental, scientific, and firefighter safety.
Driving this debate is the effort at the most fundamental philosophical level to come to grips with one of nature's most elemental forces.
In practical terms, that has meant finding a way to let naturally occurring fires do the work that experts say they are meant to do. Perhaps most important, periodic small-scale fires are seen as instrumental in thinning out dry underbrush – lessening the fuel load, in firefighting parlance – so as to prevent the larger, deadlier, and more costly mega-blazes that increasingly have ravaged America's landscape.
"Other than paving over the entire world, we are not going to get rid of fire. It is fundamental to everything we do, not just some quirky thing out west," says Stephen Pyne, a professor of life sciences at Arizona State University who is just completing two books on the past 50 years of American fire management. "If we can't manage fire, we might as well resign from the great chain of being."
---