'Fair' housing or 'social engineering'? HUD proposal stirs controversy.
A new HUD rule would merely send to local zoning boards more data, ZIP code by ZIP code, to pinpoint concentrated poverty and possible racial bias in housing. Critics see in the proposal a bid to force communities to diversify in ways that harm their economies.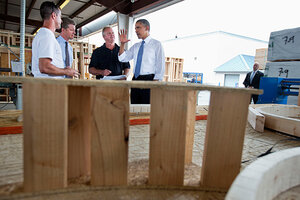 Jacquelyn Martin/AP
America's central housing authority has long sought, at Congress's behest, to "affirmatively further fair housing." But a new rule proposed by HUD is a bridge too far in that direction, say small-government proponents and other critics, who see it as an effort by the Obama administration to force communities to diversify in ways that may hurt local property values, their tax bases, and their overall economies.
The rule itself, proposed by the US Department of Housing and Urban Development, merely authorizes HUD to send to local zoning bodies more data about racial and economic disparities in their communities. It does not prescribe policy, but it does say that municipalities should use the data to guide zoning, land use, transportation planning, and financing so as to "proactively ... overcome historic patterns of segregation ... and foster inclusive communities for all." HUD is currently accepting public comments about the proposed rule.
The new rule is intended "to provide municipalities with data about who lives there, how segregated an area is, whether there are good schools, transportation networks, is it friendly for families with children – all kinds of data that pertain to protected classes under the Fair Housing Act," says Lisa Alexander, a housing policy expert at the University of Wisconsin Law School. "If we have an area of concentrated poverty, we want to encourage more middle-class people to come in, and we might be able to use that data to create some middle-income housing or do mixed finance housing with some market-rate units, some low-income units."
---