Hannah Anderson rescued, James Lee DiMaggio killed as abduction ends
Teenager Hannah Anderson and her alleged abductor James Lee DiMaggio were found at a wilderness campsite in Idaho. Ms. Anderson was rescued safely and Mr. DiMaggio was shot and killed by an FBI tactical team.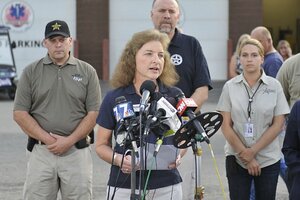 Robby Milo/AP
The abduction of California teenager Hannah Anderson by a 40-year-old family friend came to a violent end Saturday evening when James Lee DiMaggio was shot and killed by an FBI tactical team in the Idaho wilderness following three days of searching marked by Amber Alerts in five western states.
Law enforcement authorities report that 16-year-old Hannah was rescued – apparently unhurt, but taken to an area hospital for evaluation.
Although the main point of the search and rescue mission has been completed, many important questions remain to be answered.
Was Mr. DiMaggio directly responsible for the fire at his home that killed Hannah's mother, Christina Anderson, and her younger brother, Ethan?
Did DiMaggio resist arrest or put up a fight? Based on what had been found at his home, authorities had warned that his car – found covered in brush at a trailhead – might be rigged with explosives. But nothing so far has been reported about any firearms or other weapons he might have had when what authorities say was a "confrontation" occurred.
Did Hannah, with whom DiMaggio had become infatuated, leave the San Diego area voluntarily with the man said to be "like an uncle" to the Anderson siblings? Did she know her mother and brother had been killed?
She had indicated no distress to the horseback rider who saw the two with camping gear in the Frank Church River of No Return Wilderness Area – a rugged, heavily forested area about 70 miles northeast of Boise – a few days earlier, chatting briefly with them.
---