Cronut craze consumes New York: Just two per customer! And no cutting!
New Yorkers are lining up in Soho for hours to get their (limited) share of Cronuts, the sweet invention of a celebrated pastry chef, Dominique Ansel, that is already inspiring imitations.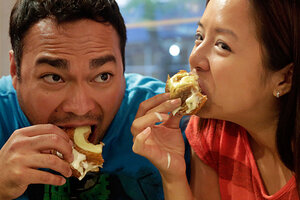 Richard Drew/AP/File
Fabiola and Melissa Baptiste schlepped down from Harlem at 5:30 a.m. Thursday morning to stand in line at a swanky Soho bakery run by Chef Dominique Ansel. Their objective: one of his freshly baked Cronuts.
"I was like, what the heck is a Cronut?" says Fabiola, a Soho designer and manager at Mulberry, a leather goods fashion company with a store down the street. "So I looked online and thought, 'wow' – and mind you, I'm a food junkie, dessert junkie, sugar junkie – so, I was like, I need to try this once in my life."
"So, today is my day off, and I said, 'Ok, Melissa, don't go to sleep tonight, we're gonna' go straight there,' Ms. Baptiste continues. "So we came, and now today's going to be our first time trying it, so I'm excited." They got in line a little after 6 a.m., and at about 8:40, they still have about 50 people in front of them. The bakery opened at 8.
So what the heck is a Cronut? Well, as the name implies, its sort of a croissant and donut hybrid that has, in just 3-1/2 months, become a worldwide sweet-tooth sensation. And though there are knockoffs springing up all over now, Chef Ansel has applied to trademark the name, and his recipe remains the most talked-about pastry from Berlin to Singapore.
Already recognized as one of the sweetest pastry chefs in the city – the New York Post has called him the Willy Wonka of NYC – Chef Ansel spent two months and 10 tries coming up with the recipe.
---