Funeral held for Hannah Anderson's mother, brother: What now for abducted teen?
A memorial service was held Saturday for Hannah Anderson's mother and brother, Christina and Ethan. As the story of Hannah's alleged abduction by James Lee DiMaggio continues to unfold, the teenager will try to return to a life as normal as possible.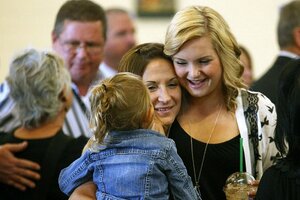 Howard Lipin/REUTERS
A memorial service in southern California Saturday marked an important point in the continuing saga of teenager Hannah Anderson's abduction by an older family friend, eventual rescue in the Idaho wilderness, and return six days later to a life still marked by questions about what really happened and why.
At the Guardian Angel Roman Catholic Church in Santee, Calif., near San Diego, an estimated 500 people attended the funeral of Hannah's mother and younger brother, Christina and Ethan Anderson.
"For the death of Tina and Ethan there are no easy words," the Rev. Kevin Casey told the memorial gathering, which was open to the public. "We are touched by this evil and we can never be the same again."
The two had been found dead in the home of James Lee DiMaggio, apparently killed before a fire had been ignited by a timer some 20 hours after DiMaggio and Hannah headed north on rural roads through California and Oregon to the River of No Return wilderness area in Idaho.
Although DiMaggio was considered "like an uncle" to the Anderson children – driving them to school and other events, taking them on trips, and providing comfort when they weren't getting along with their parents, especially when Mr. and Mrs. Anderson separated and their father moved to Tennessee – law enforcement authorities have continued to insist that Hannah was "a victim in every sense of the word."
---