Yosemite Rim Fire: why there's more optimism about taming it
Cooler temperatures, higher humidity, and lighter winds are helping those battling the Yosemite Rim Fire, which is now 30 percent contained. Also factors: drones and areas already scorched in the past decade.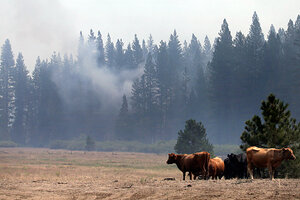 Jae C. Hong/AP
Although the Yosemite Rim Fire is still raging and expanding – now at 193,000 acres – there are reasons for optimism, several officials and fire experts say. But given that Yosemite is a national park with wilderness-protected rivers, there are also very specific challenges.
The rate of the fire's spread has slowed considerably since last week. The blaze is currently 30 percent contained, and full containment is now expected by Sept. 10, according to the California Department of Forestry and Fire Protection.
Cooler temperatures, higher humidity, and lighter winds are giving firefighters more time to get where they need to be – in particular, to ignite smaller fires in the expected path of the larger conflagration, so the bigger fire is deprived of fuel when it gets there.
"I think we've got a really good anchor on this thing," Dick Fleishman of the US Forest Service told the Los Angeles Times. "The plan of attack is to just keep going on the containment lines and march on the northwest side and keep flanking on the bottom side and get around it."
Officials are employing unmanned drone aircraft for the first time against the Rim Fire. Operated from afar – the March Air Reserve Base in Riverside County, Calif. – the drone is about the size of a small Cessna. It is a cheaper, more efficient tool for strategists to better understand where the fire is going and how it is behaving.
---