Mississippi indictment highlights pitfalls of power for sheriffs
The indictment of a sheriff in Mississippi highlights a long-simmering debate about how long the arm of the law really is. Some sheriffs think they have more authority than the president.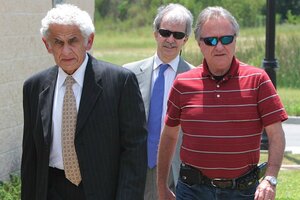 John Fitzhugh/Sun Herald/AP
Many American lawmen believe, in part because of the way the Constitution is written, that there is no higher power than the office of the sheriff, with even the President of the United States being penultimate to the badge. Miss. Sheriff Mike Byrd, however, may have forgotten the flip side of that power – that the sheriff is expected to be a "minister of God for good," as the National Sheriffs' Association describes the obligation.
A state indictment against the four-term Jackson County, Miss., sheriff claims Mr. Byrd used the power of his office in unseemly and illegal ways, including refusing to pay for lawnmower repair, ordering a detective to file murder charges against a seemingly innocent man for political purposes, and sending deputies to stake out a Mexican restaurant that refused to take one of Byrd's checks.
Mr. Byrd, a Republican, was released on bond, but he has not yet entered a plea as to his innocence or guilt. He joins dozens of sheriffs from New Mexico to Georgia who have faced indictments for malfeasance while in office over the last decade for everything from destroying incriminating court documents to murder.
Many of the slights included in Byrd's indictment that came down Friday may be criminal, but also somewhat mundane. But they actually play into a long-simmering debate in the US about the how long the long arm of the law really is when it comes to sheriffs.
That debate has intensified recently as hundreds of US sheriffs have publicly said they'll subvert, even physically resist, federal gun control laws, and that they'll turn their deputies on federal agents if they come to take anybody's guns.
---