The Monitor's Godfrey Sperling remembered: pioneer of newsmaker journalism
Godfrey 'Budge' Sperling's nearly 60-year career included 24 political conventions, but he was best known for the Monitor Breakfast, where talk was disarmingly civilized and, sometimes to the regret of his guests, on the record.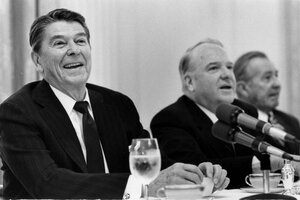 Norm Matheny/Staff/File
World War II was barely over when Godfrey Sperling Jr. reported for work at The Christian Science Monitor, still wearing his uniform as an Army Air Corps major.
Although he was a lawyer and held a degree in journalism, Mr. Sperling's first assignment was to go door to door in the Boston area for the circulation sales department. No matter. He loved the Monitor and the church that publishes it and wanted to help any way he could.
So began a remarkable 59-year journalism career. By the time Sperling wrote his last column in 2005, he was one of the best-known print journalists in the nation's capital. He passed on Sept. 11.
Along the way, Sperling, known by his childhood nickname of "Budge," served as chief of the Monitor's Chicago, New York, and Washington news bureaus. With a passion for politics, he covered 24 political conventions and interviewed numerous presidents and would-be presidents, starting with John F. Kennedy aboard his campaign plane, the Caroline. He was in the TV studio for one of the Nixon-Kennedy debates.
Gregarious by nature, Budge traveled widely, chatting up local and state officials, digging for fresh political insights and building relationships. Since he was viewed as a relentlessly nonpartisan reporter, during Watergate Republican Sen. Barry Goldwater sometimes would speak bluntly to Budge about President Nixon, sending the White House a message.
But for all of his reporting, Budge was best known as the host of Monitor breakfasts, a forum where Washington reporters gather to interview a public figure in a civilized, comprehensive way. Sperling launched the sessions in 1966 and hosted 3,241 of the gatherings over a 35-year span. Guests included Presidents Ford, Carter, Reagan and Clinton along with five vice presidents and countless cabinet and congressional officials.
---