Jersey shore tourism struggles: first superstorm Sandy, now a tornado of fire
The flames destroyed some 50 businesses along an iconic stretch of the Jersey shore. Gov. Chris Christie is among those vowing to rebuild, although some local business leaders see a long road ahead.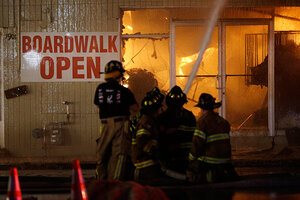 Julio Cortez/AP
Less than a year after superstorm Sandy devastated a famous stretch of New Jersey's boardwalks – leaving local businesses in a ruin of splintered boards, mangled steel, and a blanket of sea-swept sand – the tornado of fire that this week swept through four blocks of the area's just-rebuilt arcades and restaurants has burned nearly every business to the ground.
The flames destroyed some 50 businesses along an iconic stretch of the state's numerous boardwalks, which run along its 130 miles of ocean coastline.
Indeed, Seaside Park and Seaside Heights became national emblems of Sandy's ravages. Particularly prominent were images of the twisted JetStar roller coaster, which had been swept off its moorings and left isolated a few hundred feet into the ocean. It was finally dismantled this May.
"After all the effort and time and resources that we've put in to help the folks in Seaside Park and Seaside Heights rebuild – to see this going on is just unthinkable," said New Jersey Gov. Chris Christie (R). "So, I know how I feel, and I can only imagine how the residents and business owners in this area are feeling.
"My heart goes out to them," he continued. "That's why I'm here, to make sure that every resource is brought to bear to contain this problem. And, listen, this is us, you know, so as soon as this is over, we'll pick ourselves up, we'll dust ourselves off, and we'll get back to work."
Yet the dust and smoldering embers from the wind-borne flames come just months after the millions of dollars poured into these Sandy-ravaged communities, which rely on tourism.
---