Heroes of the Colorado floods: Tales of bravery by neighbors and strangers
As rescue operations continue in Colorado, evacuees and others say they are stunned and humbled by selfless acts by legions of people. The aid ranges from dramatic rescues in flooded streets to potluck dinners to feed a waterlogged community.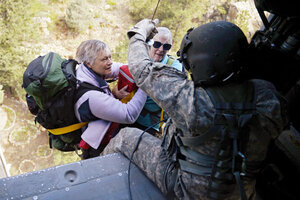 Joe Amon/AP/Denver Post
In one Boulder, Colo., neighborhood, 40 friends, neighbors, and strangers worked together for three days to keep a house from flooding. In the mountain community of Pinewood Springs, Colo., residents kept one another's spirits up – and kept one another fed – by donating food and organizing nightly potlucks during the five days before the helicopters came to evacuate them.
In the midst of destruction and loss stemming from the Colorado floods, stories of heroism and community abound. Everyone has a tale to tell, from the neighbor who swam across flooded roads to help a family in Lyons get out, to the Boulder residents who worked together at 2 in the morning to rescue a woman stranded in her car that had been washed away by a flash flood.
Residents organized, going door to door to assess people's needs and sending people who had less damage to help those with more.
While official evacuation centers aren't ready to take donations or volunteers, grass-roots efforts are springing up – via social media, listservs, and informal networks – to match people who can help with donations, housing space, or physical labor to families who are desperate for assistance. A group calling itself the "Boulder Mud Slingers" organized rapidly, sending volunteers to places where manpower was needed.
"It's kind of inspiring, and makes you realize how much you do have. If you didn't have a community like that, what would you do?" says Heidi Bogetveit, who took shelter in a friend's house along with her husband, their two children, and six other people, when her Boulder ranch home flooded.
Later, those same friends organized two dozen extended family and friends to help haul all the ruined possessions out of Ms. Bogetveit's home, as well as out of her parents' flooded house next door.
---