America's 'other' health-care revolution
While everyone focuses on 'Obamacare's' controversial public exchanges, big changes are coming to the place where most people get their coverage – at work. Here's how they might affect you.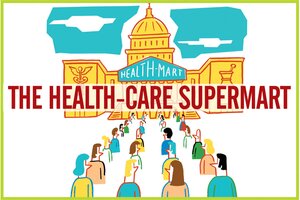 Phil Marden illustration
Imagine a health insurance system for the employee of the future.
A woman sits at her tool-and-die station, say, in a mid-size company in the Midwest, listening to a self-selected song list on her iPhone14 as she prepares to begin her day. An alert is pushed through her employer-sponsored health-care application, which syncs with its online health exchange, notifying her that a clinic 15 miles away is offering a special: $400 for a routine screening. She is always careful to have one every year, and she is due for an appointment.
She notices now, too, a 3-D pop-out ad on a thin glass interface in front of her, where she is using her index finger to flip through news topics on her personalized morning digest. The ad is promoting another clinic 30 miles away, offering an exam for $350. So she has a decision to make: Her employer's health plan will contribute only $250 a year for a screening. It's her responsibility to decide which clinic and which price she prefers. In the end, she chooses a convenient clinic a few blocks away, even though it is charging $500. She's gone there before, the staff have always made her feel comfortable, and she has the means to pay the difference anyway.
Just five years ago, her choice would have been much simpler. Her employer would have offered health insurance through one carrier. She would have made an appointment within her network, had the exam, and paid her $25 co-payment with cash. But since then, her company has shifted to a private exchange in which she and other workers have to shape their own plans, choose the benefits they want, and select the networks from which they will get their services.
The system gives them a lot of choice – and can potentially save them money. But it also requires individuals to make a number of complex decisions, and "shop" for services.
---