Obama vs. Romney: 'World War III" for attack ads. But is that bad?
With five months to go until Election Day, the Romney and Obama campaigns are already slinging negative ads. But analysts suggest they're an essential part of voters' decision-making process.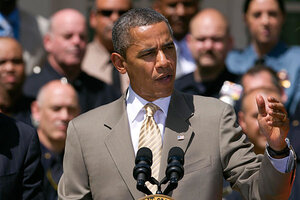 Manuel Balce Ceneta/AP
And you thought it was bad already.
There are still five months to go before Election Day, and the campaigns of Mitt Romney and Barack Obama are just beginning to lock horns for real, but negative attack ads are already exploding over the airwaves and the Internet.
Take Mr. Obama's recent attack on Mr. Romney's work at private equity firm Bain Capital or Romney's recent broadside against Obama's economic policies. Both candidates have record-breaking war chests already and continue raising funds at a dizzying pace in anticipation of what may end up being a scorched earth campaign.
"We're now entering the World War III of attack ads. We are dropping atomic and hydrogen bombs," says Charles Dunn, a political scientist at Regent University in Virginia Beach, Va. "We were just firing shotguns before."
Add to all this the growing deluge of advertising resulting from the 2010 US Supreme Court decision Citizens United, which opened the fire hose for private money pouring into so-called "super PACs." So long as the super PACs do not coordinate directly with the campaign, there is no limit on how much super PACs can spend on ads supporting or denigrating one candidate or another, as witnessed in the messy Republican presidential primary race.
---