Obama's take on gloomy jobs report: Congress hasn't done enough
Following the politically damaging jobs report, Obama spoke at an event near Minneapolis promoting jobs for veterans. His message to Congress: 'Now's not the time to sit on your hands.'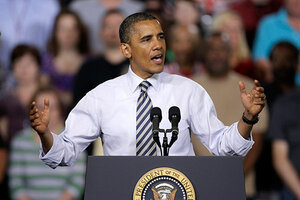 Charlie Neibergall/AP
President Obama didn't use the phrase "do-nothing Congress," but that was essentially where he placed the blame Friday as he addressed May's rise in unemployment.
Speaking at an event focused on promoting jobs for veterans, Mr. Obama pushed the "To-Do List" for Congress he unveiled last month: five items aimed at boosting the nation's weak economic recovery. One of those items is legislation to create a Veterans Jobs Corps to help military men and women find jobs after returning from Iraq and Afghanistan. The fact that it's an election year, he said, isn't lost on anybody.
"My message to Congress is, now's not the time to play politics, now's not the time to sit on your hands," Obama said at a Honeywell International plant near Minneapolis. "The American people expect their leaders to work hard no matter what year it is."
Friday's report from the Labor Department came as a blow to Obama's reelection prospects, with only 69,000 jobs created last month, well below expectations, and unemployment ticking up one-tenth of a percent to 8.2 percent. The rise in unemployment was the first since last June, raising concerns that the slow recovery is stalling.
In his remarks, Obama spoke of the "serious headwinds" the economy still faces, including high, though declining, gas prices and the crisis in the European economy that is "starting to cast a shadow on our own as well."
But most of what he outlined for the economy involves Congress – measures he sees as stimulative but haven't gone anywhere in the Republican-led House.
---