Health-care reform law: How Supreme Court ruling affects families
The US Supreme Court ruling upholding President Obama's health-care reform law carries major import for millions of American families. Notably, many who are uninsured will gain access to health coverage.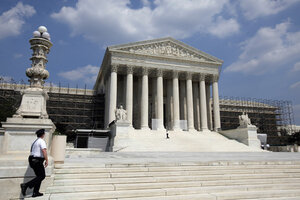 Alex Brandon/AP/File
(Updated at 1:10 p.m. Thursday)
When it issued a 5-to-4 ruling upholding President Obama's health-care reforms, the US Supreme Court rendered judgment on an issue that carries a direct impact for millions of American families.
The reform law, known as the Affordable Care Act (ACA), seeks to expand health insurance coverage by requiring individuals to purchase it and requiring insurers to offer coverage to all comers.
The Supreme Court rejected arguments that such a mandate on individuals is unconstitutional, ruling that the mandate is acceptable under Congress's power to levy taxes. (Many people who fail to buy insurance would owe a fine – in effect a tax.)
The court also declined to strike down a portion of the law that would extend Medicaid to more low-income families, up to 1.33 times the current poverty level.
The mammoth law contains many interconnected provisions, so the impact of the court's ruling will vary greatly by family circumstance.
For the roughly 50 million uninsured Americans, the court's ruling has the biggest implications. For the majority of citizens who currently have insurance, the ruling could mean some important changes as well, such as to their health plans or their personal tax rates.
Many less affluent Americans who do not qualify for Medicaid may now gain health coverage as the program is expanded.
But the court gave a mixed decision on the law's Medicaid provision, saying states cannot be coerced into participating in an expansion of the program, which is run by the states with federal support. So, depending on state-level choices, the Medicaid expansion may reach many fewer than the roughly 17 million people envisioned by the law's backers. [Editor's note: The original version of this story failed to note the mixed nature of the court's Medicaid decision.]
---