Why NRA wants Congress to vote Attorney General Eric Holder in contempt
NRA officials say the Obama administration's 'Fast and Furious' operation began as part of an antigun agenda – and that lawmakers who don't vote to hold Attorney General Eric Holder in contempt will be held to account in November elections.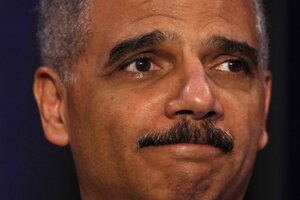 Kevin Lamarque/Reuters
When the House votes Thursday whether to hold Attorney General Eric Holder in contempt, members will have to weigh whether the circumstances of the long-running "Fast and Furious" scandal warrant putting the nation's top legal official in contempt for the first time in US history.
They're also going to weigh the opinion of the National Rifle Association, which is going to put the vote on its annual scorecard.
Wait, the NRA is going to hold lawmakers' feet to the fire on a contempt of Congress vote? What gives?
Running underneath the to-and-fro allegations over Operation Fast and Furious – which began in 2009 when federal agents allowed guns to "walk" into Mexico in order to trace where they ended up and that came to a head when guns from the scheme were linked to the death of an American border agent – is an entirely different discussion: American gun rights.
The NRA and Rep. Darrell Issa (R) of California, chairman of the House Government Oversight Committee, both believe the government has tried to use the Fast and Furious scandal to support arguments for more gun control.
---