Health-care law: How Supreme Court ruling could affect US budget
US Supreme Court ruling on the health-care reform law's constitutionality will affect more than the making of public policy. It could also swing the federal budget significantly in either direction.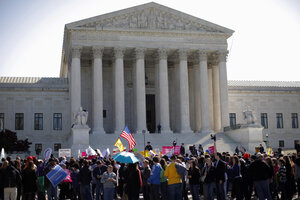 Charles Dharapak/AP
When the US Supreme Court hands down its ruling on the health-care reform law Thursday, the action will carry some big-money import for the federal budget.
A decision that strikes down President Obama's 2010 reforms in their entirety would increase federal deficits over the next 10 years.
By contrast, a narrow ruling striking down just one portion of the massive law could have a substantially different effect on government coffers. For example, a provision to expand access to Medicaid, if struck down, could save the federal government hundreds of billions of dollars, some finance experts say.
These facts aren't necessarily central to the question of what the Supreme Court should do, of course. The justices have been considering arguments pro and con that relate to weighty questions of constitutional law.
And from a public-policy viewpoint, the biggest issues at stake arguably are things separate from government finances: the health care Americans receive, its overall cost, and the way health-care policy affects the economy and job creation.
But with those caveats in mind, here's what the ruling could portend for government budgets, based largely on a recent analysis by the nonpartisan Committee for a Responsible Federal Budget (CRFB) in Washington.
The group estimates that, if the Affordable Care Act (ACA) is overturned in its entirety, federal budget deficits will rise by about $119 billion over the next 10 years.
How does that estimate arise? The CRFB started with an earlier official estimate of effects on the federal budget, from the Congressional Budget Office. That CBO tally found that the ACA would reduce federal budget deficits, because the law's new costs (such as tax subsidies for the uninsured to buy coverage) would be offset both by new tax revenue and by lower planned spending in some areas, such as Medicare.
---