Why Republicans see a loss in the Supreme Court as a win at the polls
Supreme Court's 5-to-4 ruling upholding President Obama's health-care law gives Republicans a new case to repeal the law, hammer taxes, and rev up the party base.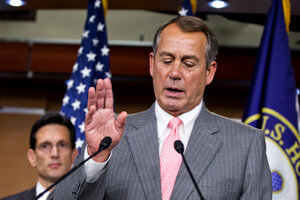 J. Scott Applewhite/AP
Republicans were spurned by the Supreme Court on Thursday – but if the reaction to the nation's highest court upholding President Obama's signature health-care reform law is any indication, the GOP will do its best to ram the court's decision down Democrats' throats between now and November.
"The Supreme Court spoke today, but they will not have the final word," said Rep. Cathy McMorris-Rodgers (R) of Washington, who is GOP presidential nominee Mitt Romney's campaign point person on Capitol Hill. "The American people will have the final word in November."
Had the court struck down the law in its entirety or in part, there may have been a need for legislative fixes to federal health-care law – whether to reinstate popular provisions from the health-care reform bill or fix gaps blown open in the law by the Supreme Court, for example. But because the court upheld the law, the issue was powered straight into the realm of electoral politics.
Congressional Republicans, it became clear Thursday, are going to leverage the Supreme Court's decision in two ways.
---