Health care: What the Supreme Court's ruling means for US consumers
The US Supreme Court ruling to uphold Obama's health-care reform law affects households across America. Millions without insurance are on track to get it. But costs are an unresolved issue.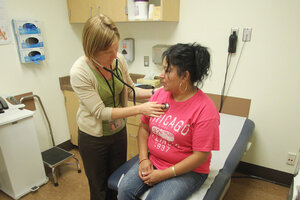 Rick Bowmer/AP
The US Supreme Court's decision on health-care reform Thursday opens the door to a major expansion of health insurance, affecting households across America.
Millions of people who currently lack health insurance are now on track to get it, as core provisions of President Obama's reforms go into effect in 2014.
However, while the word "affordable" is prominent in the title of Mr. Obama's reform law, the court's ruling leaves rising medical costs as an unresolved issue of public concern. Though the ruling clears the way for the 2010 Patient Protection and Affordable Care Act to influence costs in a variety of ways, the law won't fully resolve the problem, say policy experts.
That hints at another important fact: The court's ruling also doesn't codify the Affordable Care Act (ACA) in stone. Politicians of both parties are bound to seek changes to the law, with Republicans on the campaign trail pledging a "repeal and replace" approach. Where supporters say reforms of broad scope are needed, critics say it's a case of misguided federal intrusion in the affairs of individuals and states.
Looking at the law as it stands, after Thursday's court ruling, here's an overview of how it is poised to affect families and individuals:
Expansion of insurance coverage
---