'Welfare voters' are latest battleground in Brown-Warren Senate race
GOP Sen. Scott Brown charges that a new drive to register low-income voters in Massachusetts is a bid to boost support for Democrat Elizabeth Warren, pushed by a left-leaning group with ties to the challenger.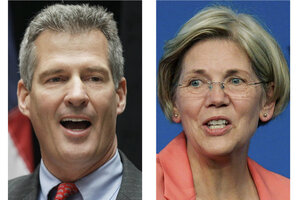 AP/File photos
Republican Sen. Scott Brown of Massachusetts has accused Democrats of using public money for a voter-registration drive designed to boost rival Senate candidate Elizabeth Warren.
But where Senator Brown sees an objectionable tactic motivated by crass political calculations, backers of the move in Massachusetts say it's simply an effort to comply with federal law.
What both sides agree on is this: Under pressure from a lawsuit with liberal backers, the state government has agreed to send voter registration forms to anyone on the state's welfare rolls during the past year, or about 478,000 people.
"I want every legal vote to count, but it's outrageous to use taxpayer dollars to register welfare recipients as part of a special effort to boost one political party over another," Brown said in a statement released Wednesday. "This effort to sign up welfare recipients is being aided by Elizabeth Warren's daughter and it's clearly designed to benefit her mother's political campaign."
The political advocacy group Demos, which helped file the lawsuit against Massachusetts, quickly fired back, calling the issue nonpartisan: "It is fundamental to our democracy that all eligible citizens be accorded the maximum opportunity to register and vote," said Miles Rapoport, the group's president. "We completely reject the Brown campaign's or anyone else's assertion that this is politically motivated or coordinated in any way."
---