Poll finds high level of distrust in the media. Anybody surprised?
A new Gallup survey finds most Americans have little or no trust in the media, especially Republicans and independents. Is this a dangerous trend in a democracy reliant on public information?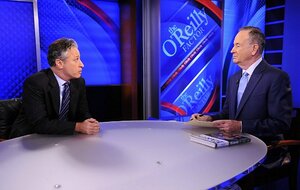 Peter Kramer/AP
To those of us in the news biz, the headline on a new Gallup survey was dispiriting, to say the least: "U.S. Distrust in Media Hits New High"
"Americans' distrust in the media hit a new high this year, with 60 percent saying they have little or no trust in the mass media to report the news fully, accurately, and fairly," Gallup reported Friday. "Distrust is up from the past few years, when Americans were already more negative about the media than they had been in years prior to 2004."
That's a far cry from the 1970s, when Gallup asked the question three times and found trust in the media as high as 72 percent.
It also means that "negativity toward the media is at an all-time high for a presidential election year," according to Gallup, which is "particularly consequential at a time when Americans need to rely on the media to learn about the platforms and perspectives of the two candidates vying to lead the country for the next four years."
RECOMMENDED: Are you smarter than a Fox News viewer? How about a CNN viewer? Take our quiz to find out.
There's a definite political tilt to such findings.
Trust in the media – defined as having a "great deal" or "fair amount" of trust – is very low among Republicans (26 percent) and independents (31 percent), considerably higher among Democrats (58 percent). Paradoxically, Republicans are the partisan group most likely to be paying close attention to news about national politics, Gallup finds.
How have things changed since the media's relative glory days in the '70s and earlier?
---