Presidential debate 101: Does Romney have 'economic policies of the 1920s'?
In Monday's presidential debate, President Obama accused Mitt Romney of wanting to take America back to the economic policies that preceded the Great Depression. It was a timely zinger, but its accuracy depends on what Obama actually meant.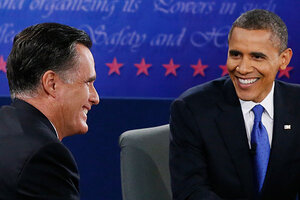 Rick Wilking/AP
President Obama took one of his rhetorical thrusts at Mitt Romney to new heights, or depths, in their debate Monday, asserting that his rival wants to revive the "economic policies of the 1920s."
Throughout the presidential race, Mr. Obama has adopted the slogan "Forward" for his own policies, and charged that his Republican challenger wants to reinstate failed policies of the past that "got us into this mess."
The comments typically imply that Romney is a clone of President Bush. On Monday, Obama's remark looked some eight decades further back, to the White House administrations of other low-tax Republicans: Warren Harding and Calvin Coolidge.
But what, exactly, was Obama alleging, and is it true? The quick answer is: It depends on what Obama meant.
The zinger came at the end of a string of other accusations, and Obama offered no further elaboration on it, leaving it unclear exactly what he was suggesting.
But the most obvious parallel between Republican leaders in the 1920s and Mr. Romney is the theme of low taxes and light regulation. Obama's implication is probably that things didn't work out so well then, with the Wall Street crash and the Great Depression starting at the end of the decade under another Republican, Herbert Hoover (inaugurated in 1929). So we might not want to elect someone advocating the same path now.
Yet if that is what Obama was saying, the allegation is problematic. Many economic historians suggest that those policies did not set the stage for the Great Depression. Rather, the economists point largely to a different factor: harmful monetary conditions. In short, the Federal Reserve's tight rein on money was a precipitating factor, which then interacted with other problems (including bank runs and a poor fiscal response to the downturn) that worsened the economy.
Now, if Obama was making that more nuanced point, he might be on firmer ground. He could argue that Romney as president would use his power of appointment to steer the Federal Reserve in a direction of tight monetary policy – repeating mistakes seen in the 1920s and 1930s.
---