Richard Mourdock: the theology behind his rape comments
Senate candidate Richard Mourdock was apparently espousing the doctrine of providence in his comments about rape earlier this week. But he bungled it, and some Evangelicals aren't pleased.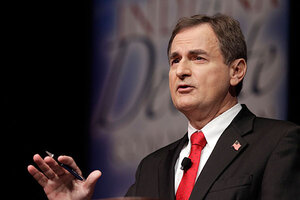 Michael Conroy/AP
When Indiana Republican Senate candidate Richard Mourdock this week spoke provocatively of rape-induced pregnancy as "something that God intended to happen," liberals and atheists weren't the only ones outraged.
The furor extends into Evangelical camps, too. Believers have taken Mr. Mourdock to task for bungling the important doctrine of providence, which holds that a benevolent God upholds and cares for an imperfect world.
In awkwardly wading into theological waters, Mourdock apparently aimed to affirm the belief – widely held in Evangelical circles, in particular – that God's sovereignty knows no limits. It is a concept that has strong ties to 16th-century Swiss religious reformer John Calvin, who saw in scripture and day-to-day events evidence of a hands-on God. Mourdock showed, however, how tricky it can be to apply the doctrine in discussing tragic events.
What Mourdock said "is offensive," says Richard Lints, a theologian of the Reformed tradition, which has Calvinist roots, and dean at Gordon-Conwell Theological Seminary in South Hamilton, Mass. "The clumsiness is [to] so align God with evil that God becomes a horrific figure. It's contrary to anything you read in scripture, and it removes the human responsibility."
---