Congress: Will fiscal cliff, election results lead partisans to stand down?
Post-election, the GOP-led House still sees its mandate as tax-hike prevention. Obama and the Democrats still want to raise taxes for the wealthy. But if they don't work together, the looming 'fiscal cliff' – which no one wants to see – may doom them all.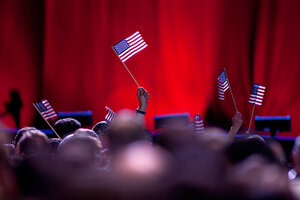 Melanie Stetson Freeman/Staff
In theory, at least, President Obama's clear election victory should – or at least could – open the way to bipartisanship in Washington.
His win may have been slimmer than in 2008, but Republicans in Congress can no longer have as their highest priority stopping Mr. Obama's reelection, as Senate minority leader Mitch McConnell famously vowed two years ago. Nor, given the "fiscal cliff" dead ahead, can Republicans and Democrats simply stay entrenched in their partisan positions.
But don't expect sweetness and light emanating from Washington with the dawn of a new political order, for in fact that order is not all that different than what it's been these past few contentious years. With some notable exceptions, the lineup at both ends of Pennsylvania Avenue remains relatively the same: Democratic president, Republican House, and Democratic (but not filibuster-proof) Senate.
As Jake Sherman and Manu Raju of Politico.com put it in the wee hours after Tuesday night's election results were known, "Obama's convincing reelection, the Republicans' sustained majority in the House, and Democrats' hold on the Senate only further complicate the prospects of cutting any kind of deal on expiring income tax rates, massive pending cuts to Pentagon spending, and entitlement reform."
Take one example: raising taxes on the wealthy.
---