Why Pentagon won't say how it would cut $55 billion starting Jan. 1
The Pentagon may finally be planning for dreaded spending cuts set to take effect in the new year, though it is mum on any specifics. It wants Congress to come up with a different solution to US deficit spending.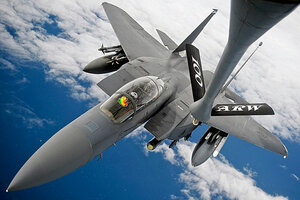 Courtesy of Ethan Morgan/U.S. Air Force/Reuters
The Pentagon is staring at some $55 billion in spending cuts – 10.5 percent of its annual budget – that it will have to make immediately come January, if Congress does not act before then to avert the "fiscal cliff." Officials there, no fan of these automatic cuts or of the process on Capitol Hill that spawned them, have alternately called this approach to financial discipline a "blind meat ax," a "goofy meat ax," and "fiscal castration."
In fact, they assert that the impact of the cuts is so grim – and poses such an "unacceptable risk" to America's national security, as Chairman of the Joint Chiefs of Staff Martin Dempsey has warned – that the Pentagon refuses to even plan for them.
Why, in a building filled with US military commanders who pride themselves on preparing for every contingency, particularly those considered dire, is there such a reluctance to plan – or at least to acknowledge any planning – for severe spending cuts mandated under this Washington budgetary regimen known as sequestration?
---