Politicians and guns: Why it's important that Obama shoots skeet
The White House has released a photo of President Obama firing a shotgun. In the US today, it seems important that politicians – especially men – know their way around guns. Why is that?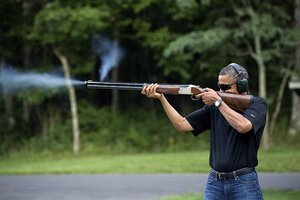 Pete Souza/The White House/AP
What is it about politicians and guns?
Once describing himself as a "lifelong hunter," Mitt Romney had to backtrack, acknowledging that "lifelong hunter" meant shooting at "small varmints" now and then.
Rick Perry let it be known that he once went mano a mano with a coyote he said was threatening his dog, killing the beast with the handgun he carried while jogging. (Just where did he tuck that .380 Ruger on his morning run through the cactus and tumbleweeds, by the way?)
As a presidential candidate, John Kerry once borrowed a double-barreled shotgun and camo outfit to bag geese and an important photo op. (Wasn't it enough that he'd pursued and killed an enemy soldier armed with a rocket-propelled grenade in Vietnam, where he'd been awarded a Silver Star, Bronze Star, and three Purple Hearts?)
How much do you know about the Second Amendment? A quiz.
Sarah Palin made sure her now-defunct "reality" show included the scene of her shooting a caribou, although hunting experts questioned some of the details and wondered why it took five shots to bring down the animal. Ms. Palin dismissed such criticisms, telling a Kansas City crowd, "I have caribou blood under my fingernails still."
---