Gun debate 101: Is the AR-15 as popular as the iPod?
The commando-style rifle, used in the Sandy Hook shootings, is now the most popular gun in America. Anticipating new gun-control measures, consumers are depleting stocks and driving up prices.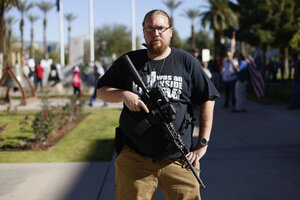 Joshua Lott/Reuters/File
FBI background check data released Wednesday suggests that America's great run on guns continues nearly unabated, as another 2.5 million guns flew off the racks amid manufacturer struggles to keep up with demand.
The most popular and hard-to-find weapon on American shopping lists? Undoubtedly the assault-style rifle, specifically the frame known as the Armalite Rifle-15, or AR-15, the same model used by Adam Lanza during his deadly rampage at Sandy Hook Elementary School in Newtown, Conn., on Dec. 14. "The most wanted gun in America," The New York Times intoned in a headline over the weekend, documenting a national obsession with the commando-style rifles.
The main reason gun buyers are lining up, of course, are concerns that Congress will ban the weapons, as many states already have. The result is that stores like Walmart are frequently running out of stock, and many buyers are turning to gun shows to find used versions, at prices that have doubled, sometimes tripled, since the Newtown massacre.
What is the AR-15, and what makes it special?
The AR-15 is a semiautomatic civilian version of an M-16 military machine gun. It is not a true assault weapon, since it can't fire continuously. It's extremely accurate at 200 yards and easy to modify, and thus has many uses, ranging from coyote hunting to hobby shooting at ranges. Its short barrel and modified stock makes it easy to maneuver in tight places, making it a popular home defense weapon as well. A variety of gun companies make their own versions of the basic frame, and quality and price fluctuate from company to company.
How many assault-style weapons are in circulation in the US?
---