Obama on Prop 8: How sweeping is administration support for gay marriage?
Even if the Supreme Court agrees with President Obama's brief arguing that California's Prop. 8 is unconstitutional, that doesn't mean there will be a nationwide right for gays to marry.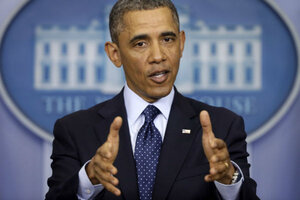 Charles Dharapak/AP
President Obama on Friday said that in recent years, the whole nation has moved toward the position that gay couples should marry – a change in thinking that mirrors his own.
That's a "positive thing," he said at a short news conference, and it's a big reason the administration on Thursday filed a friend-of-the-court brief with the US Supreme Court arguing that California's Proposition 8, which bans gay marriage, is unconstitutional.
"When the Supreme Court essentially called the question by taking this case about California's law, I didn't feel like that was something that this administration could avoid," Mr. Obama said. "I felt it was important for us to articulate what I believe and what this administration stands for."
But do Obama and his administration believe the court should establish a broad national right for gays to wed? That's a question with a complex answer not entirely reflected in the president's words.
Strictly speaking, the US did not have to get involved in Hollingsworth v. Perry (12-144), the Supreme Court case on Prop. 8. That's because the case centers on the constitutionality of a state statute: in this case, a proposition passed by California voters, which amended the state constitution to limit "marriage" to a union between a man and a woman.
The administration's brief argues (unsurprisingly) that Prop. 8 is indeed unconstitutional. But it does not hold that all state prohibitions on gay marriage are thus also unconstitutional.
However, the brief's reasoning still might ultimately lead the Supreme Court, if it agrees, to eventually establish gay marriage as a national right.
---