Is Washington working? How Congress took a big step forward this week.
In a marked change of tone on Capitol Hill, the House Republican and Senate Democrat who hold Congress' purse strings made headway toward avoiding a March 27 government shutdown.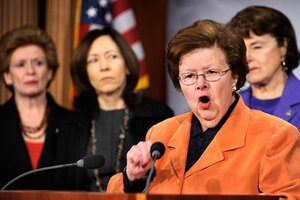 Mike Theiler/Reuters/File
Don't look now, but Congress is dangerously close to avoiding its second potential fiscal crackup in as many months.
No, it isn't pretty. But it isn't government-by-crisis – at least for the moment.
Behind the scenes this week, ultra-delicate bipartisan consultations over how to keep the government running after a March 27 deadline showed signs of progress. Legislative leaders in both parties, as well as President Obama, are expressing optimism that a compromise bill can be reached within the next two weeks, heading off a potential crisis well before the cliff's edge is in sight.
It's a fresh signal that, as spring dawns in Washington, the icy standoffs that defined the last two years of Congress could be melting – at least somewhat.
Already this year, House Republicans decided not to go to the wall when the debt ceiling needed to be raised. Instead they allowed the federal government to continue borrowing money for about six months in exchange for a promise from Senate Democrats to actually propose a budget this year (something Senate Democrats haven't done the past three years).
While the true test of whether this early thaw takes hold will come this summer when the debt limit is again reached, the indications from the most recent round of negotiations on fiscal matters appear positive.
The current talks center on passing a new continuing resolution to keep the government running. That is necessary because Congress didn't pass funding for the entire fiscal year, which begins in October, last fall. Instead, it's been running on a continuing resolution – a stopgap funding measure – that expires on March 27.
---