Liberals to Obama: not so fast on Social Security cuts
The worst fears of progressive groups were confirmed Friday: President Obama's budget will include cuts to Social Security. But the call has gone out, and liberals are fighting back.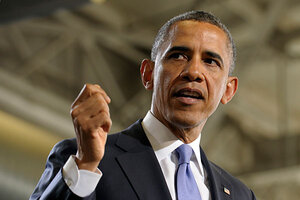 Susan Walsh/AP/File
Liberal groups issued a primal scream Friday over the news that President Obama's budget next week will include cuts to Social Security.
The president is proposing a new formula to calculate inflation, called "chained CPI," effectively reducing annual increases in the payments to most seniors. This would come as part of a compromise on deficit reduction with Republicans that would also include higher taxes on the wealthy and increased spending on some domestic programs such as infrastructure.
But to progressive advocacy groups, compromising upfront on social safety-net programs equals surrender, and they will have none of that. Supporters' (and reporters') in-boxes exploded Friday with indignant reactions and suggestions of betrayal. Petitions are circulating. Funds are being raised.
Mr. Obama may have stuck his hand in a hornet's nest, but having been safely reelected, he may feel he can take the gamble of alienating some of his supporters in the name of trying to reach a deal. But voices on the left disagree.
"The president's decision to include cuts to Social Security benefits in his budget is wrong policy and dumb politics," writes Roger Hickey, co-director of the Campaign for America's Future (CAF). "His chained CPI plan is wrong because it hurts Americans who have worked hard their entire lives and who need the support that Social Security gives them. It is wrong because Social Security is financed separately and does not contribute to the deficit."
It is "dumb" politically, Mr. Hickey continues, because now Republicans will call chained CPI a Democratic proposal and will attack Democrats in the next election for trying to cut Social Security.
In another e-mail, CAF made a pitch for donations. "Social Security represents America at its best, and now it is up to you to defend it," writes the group's other co-director, Robert Borosage.
---